CHRISTMAS 2023
NEW SHOW, NEW VENUE, SAME GREAT MUSIC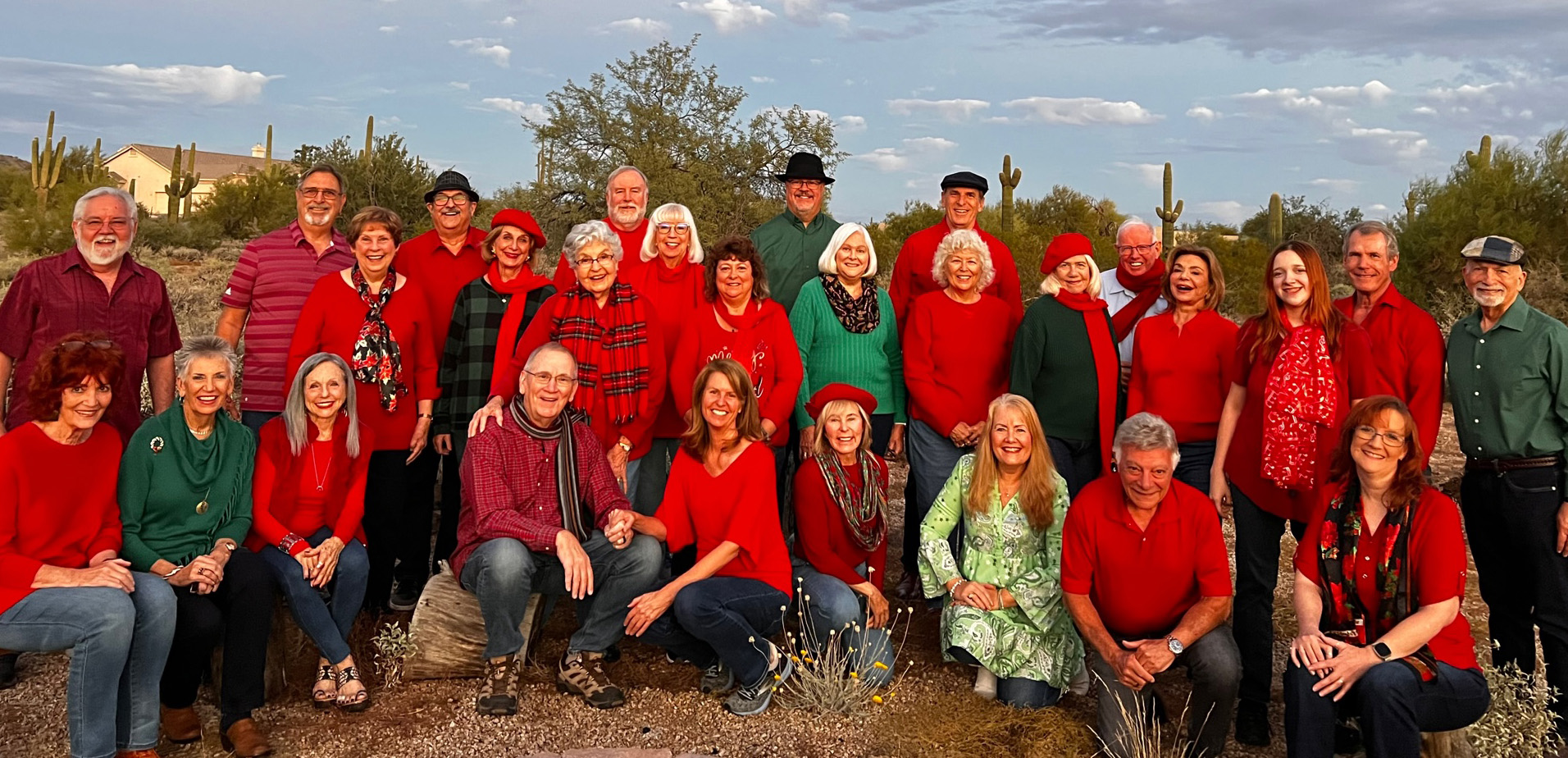 Help us support young vocalists! Please mail donations to Upscale Singers, P.O. Box 86, Cave Creek, AZ 85327.
***
We're excited about "Upscale Singers Holiday Celebration," which will be presented on two weekends in December, for several reasons.
First, we have a beautiful new venue: The Cactus Shadows Fine Arts Center, 33606 N. 60th St., Scottsdale. Our concerts are scheduled for 2 p.m. Saturday, Dec. 2, and 5 p.m. Sunday, Dec. 10.
And it will be a whole new show. We don't want to spoil the surprise -- just know that you'll be tapping your feet and singing along, as usual.
You can get your tickets by clicking any of the "Buy tickets" buttons on this site.
Watch for more details in the weeks to come. We can't wait!
***
The 2023 Upscale Singers spring concerts wowed our audiences. Over and over, we heard how much you loved "The Upscale Zone."
The spring show by Scottsdale's premier adult choir featured comfortably familiar music with old favorites from four famous productions and one iconic quartet.
"It's the variety and popularity of the music that will please the audience so much," director Margaret Watson said.
"Who doesn't love 'Les Miserables' and Jersey Boys (pictured in the photo above) put on the same ticket as 'My Fair Lady' and 'The Lion King?' Then you add the Upscale Kids singing music from 'Peter Pan,' and the success of the show is guaranteed."
Audiences raved about all three shows, April 14 and 15 at Desert Hills Presbyterian Church and April 29 at St. Patrick Catholic Community. That tracked with past concerts, which audience members enjoyed so much that several have come on board, giving the group the largest number of singers (38) in its 18-year history. But the music this spring also was a lure for the many regulars in the Upscale family.
"I had so many singers say, 'Save my spot. I'm not missing this show!'" Watson said. "We have great singers in the group – amateurs and retired professionals alike. Several used to perform professionally in New York and elsewhere and love sharing their talents with the community.
"But we're always looking for new singers, so I hope that people who are looking for a great singing group will come and see our performances. That's the best way for them to see what we're all about."
Clearly, our fans love what we're all about.
The Upscale Singers were recognized as a Reader Recommendation in the 2023 edition of the Best of the Foothills Focus, and the July newsletter for the Terravita community contained a very nice (and extensive) mention of how much residents enjoyed our spring concert.
To see photos from our concerts, click on the Gallery tab at the top of this page.